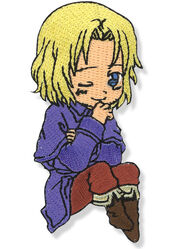 A few Patches have been released by Great Eastern Entertainment.
Due to how they're supplied, actual retail values are unknown. Prices depend entirely on individual retailers.
Second-hand values don't appear to exist yet.
Item Details
Edit
Currently, 9 patches have been made. There are two of Japan, and one each of Italy, Germany, America, England, France, Russia and China. The art used on most of these is the same as on the Funimation DVD box art.
User Photos
Edit
External Links
Edit
Ad blocker interference detected!
Wikia is a free-to-use site that makes money from advertising. We have a modified experience for viewers using ad blockers

Wikia is not accessible if you've made further modifications. Remove the custom ad blocker rule(s) and the page will load as expected.