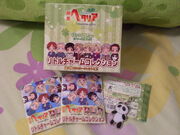 Little Charm Collection (リトルチャームコレクション) is a set of 12 charms, one of many items released June 5th 2010 for the movie Paint it, White!
The charms are sold as full complete, retailing at 6,300円 ($84) and giving the individual charms a value of 525円 ($7) each.
Item Details
Edit
Most commonly called Paint it, White! charms instead, most of them are tiny portraits made from the Sound World set of chibi art commonly used by the Paint it, White! movie and given a gold border with their name written in English below them.
Four charms, however, don't fit this description. The secret charm, Prussia, has a silver border. Pochi, Kumajiro, and the panda have no borders at all, their charms shaped to their image instead.
User Photos
Edit
External Links
Edit
Ad blocker interference detected!
Wikia is a free-to-use site that makes money from advertising. We have a modified experience for viewers using ad blockers

Wikia is not accessible if you've made further modifications. Remove the custom ad blocker rule(s) and the page will load as expected.