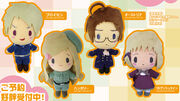 Movic Plushies are the most well-known plushie set in the Hetalia series. Currently, three sets have been released.
Each plushie retails at 1260円 ($16.80)
Second-hand, sealed plushies can range from 1200円 ($16) to 4000円 ($53.33) each depending on the character. Once the boxes have been opened, the plush range from 100円 ($1.33) to 700円 ($9.33), instead. Earlier sets, as they're rarer, tend to be the most expensive.
Item Details
Edit
The first set of Movic plushies is one of the only two sets in the Hetalia series to have bootlegs. The most noteable difference, apart from obvious quality differences, is that the bootlegged plushies lack a display box. Most also come with hang tags added.
User Photos
Edit
External Links
Edit
Ad blocker interference detected!
Wikia is a free-to-use site that makes money from advertising. We have a modified experience for viewers using ad blockers

Wikia is not accessible if you've made further modifications. Remove the custom ad blocker rule(s) and the page will load as expected.