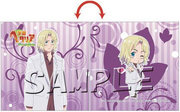 Mini Cushions are a set of small cushions made by S・O・F・T and released in July of 2011.
They are sold individually, and retail at 945円 ($12.60) each.
So far, none seem to be available second-hand, so no price range can be determined.
Item Details
Edit
Each mini cushion measures 15x15 cm, is made of suede, and is stitched all the way around with no zipper.
The stock art used on them is from the Gakuen Hetalia PSP game. There is one character per cushion, dressed in their formal wear outfit. They are drawn normally on the front of the cushion, and chibi on the back.
Currently, the eight characters featured are Italy, Germany, Japan, America, England, France, Russia and China. The most popular design in Japan appears to be France, as he was the first to become sold out. These pillows don't appear to allow back orders.
User Photos
Edit
External Links
Edit
Ad blocker interference detected!
Wikia is a free-to-use site that makes money from advertising. We have a modified experience for viewers using ad blockers

Wikia is not accessible if you've made further modifications. Remove the custom ad blocker rule(s) and the page will load as expected.