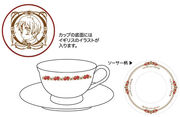 England's Cup and Saucer
set was released January 21, 2010 by Movic.
The retail value was 1260円 ($16.80).
While too rare to average a second-hand price within Japan, it appears to be worth over $120 in North America.
Item Details
Edit
User Photos
Edit
External Links
Edit
Ad blocker interference detected!
Wikia is a free-to-use site that makes money from advertising. We have a modified experience for viewers using ad blockers

Wikia is not accessible if you've made further modifications. Remove the custom ad blocker rule(s) and the page will load as expected.