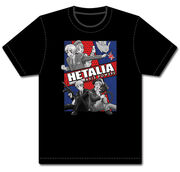 Currently, 9 T-Shirts have been released by Great Eastern, with a 10th planned for late June. No solid release dates are known for the earlier designs.
Retail values range from $15.99 to $19.99 depending on design and size.
Item Details
Edit
Each design comes in only men's or women's sizes, but all shirts range from size S to XXL.
For the most part, each design consists of anime art with most colours removed, and additional backgrounds and effects added to the image.
User Photos
Edit
External Links
Edit
Ad blocker interference detected!
Wikia is a free-to-use site that makes money from advertising. We have a modified experience for viewers using ad blockers

Wikia is not accessible if you've made further modifications. Remove the custom ad blocker rule(s) and the page will load as expected.